Hello guys!
I thought I would share some of my latest beauty products that I've been using the last few weeks:
1. Urban Decay All Nighter Setting Spray
2. NYX HD Foundation Setting Powder
3. NYX Not Flat But Matte Foundation
4. Elf Hydrating Primer
5. KIKO Milano Face Palette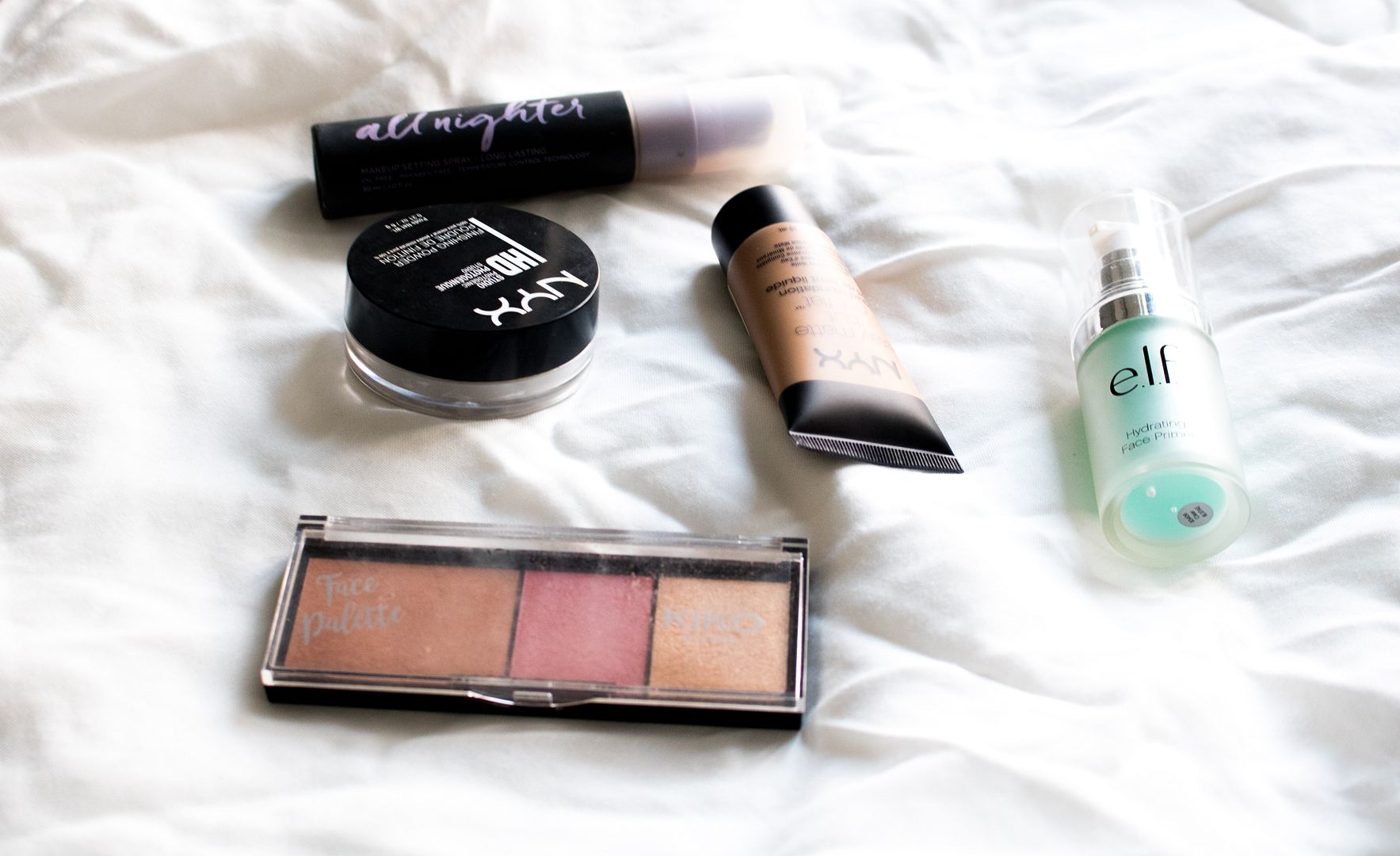 Urban Decay All Nighter Setting Spray
I'm in love with the setting spray from Urban Decay. I used in when I was in Rome and I am going to bring it to my next vacation too. It definitely makes sure that my makeup stays for the longest time and also it sets my makeup well. Love it!
NYX HD Setting Powder
I don't always set my concealer or foundation with setting powder but when I do, I use the NYX setting powder which also sets my concealer in place and gives the look a more flawless finish. I can't really tell if it's better than any other setting powders since I've only tried two setting powders in my life ;)
NYX Not Flat But Matte Foundation
My latest foundation is the NYX foundation which I really do enjoy wearing. It's like the more I use it the more I love it. I usually prefer a dewy look and this foundation is really matte so I needed some time to get used to that but after applying bronzer, blush and highlight it is amazing. Love it. Also it stays properly most of the day!
ELF Hydrating Primer
This primer is definitely one I would buy again. I've been enjoying the Elf primer ever since I first tried it. It makes my skin hydrated and makes it easy to apply foundation afterwards. It gives my skin a really good base to apply makeup.
KIKO Milano Face Palette
I first had a "love hate relationship" with the face palette from KIKO Milano actually. I couldn't really figure out if I liked it but still I do end up using it again and again. I'm still a little confused about this product I guess :P The highlighter is amazing! I love it! It's so beautiful. The bronzer is ok. It gives color to my skin and a little bit of definition. I'm not 100 % perfect happy with the shade but it is "wearable" and not bad at all. The blush is not really a color for my skintone. I prefer something more on the "peach side" I guess. I don't feel like it suits my skintone. But still I do use the highlighter and bronzer more often than i expected. I think it's because the palette is so small and I can take it with me wherever I go and also it is very affordable and I guess that's something I do appreciate. And also the highligher is AMAZING. :)