Hello guys!
Let me introduce you to a new beauty series on our blog that will be posted whenever we have some favorite beauty picks that we want to share with you guys! Lately I've been enjoying a few beauty products a little bit more than others that I want to share on the blog!
The 5 beauty picks for today is
– Benefit Roller Lash
– Kat Von D Eyeliner
– LookX Brow Pencil
– Colorpop Eyeshadow: MUSE, Super Shock Shadow, Ultra-Metallic
– Sephora Face Conour Duo: Tan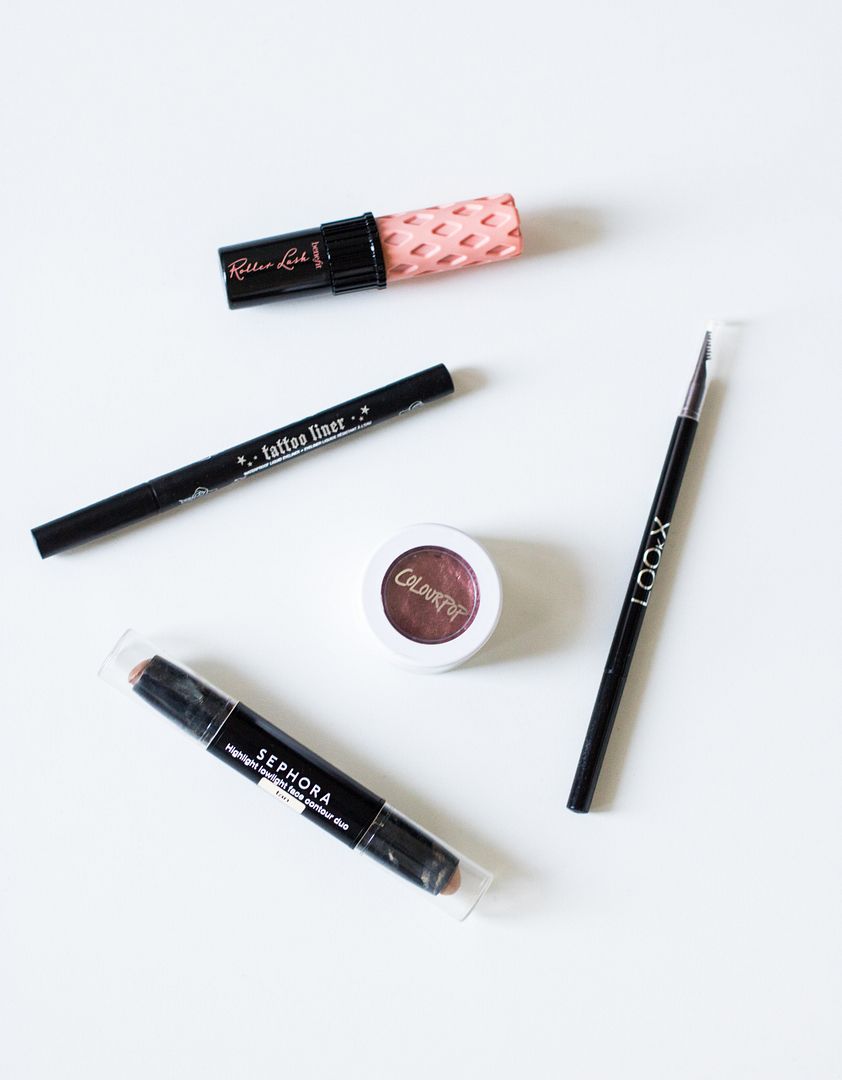 Benefit Roller Lash
The Benefit Roller Lash has been one of my current favorite mascaras the last few months. I love wearing it! It curls your lashes amazingly and gives your lashes a beautiful length and volume. What got me most excited about this mascara is how much it actually lifts up my lashes. I really needed that. It makes me look more awaken than usual :P Love it!
*
Kat Von D Eyeliner
Ok. So I read and also watched a lot of youtubers braving about the Kat Von D Eyeliner and I got a little curious cause what makes this eyeliner better than any other eyeliner? I mean they kinda look the same? But omg first of all: It stays throughout the day! Usually my eyeliners are totally rubbed off at the very end of the day but not this one! Second of all: It's so easy to work with! The tip of the eyeliner is made perfectly so it is so easy to line your eyes no matter if you want a winged eyeliner or just a casual one of if you want to tight line or you want a thick line! I'm definitely going to buy this one again!
*
LookX Brow Pencil
I got this brow pencil from a Celesti bag and at first I actually thought I would never use this one. I was very skeptical at first. You need to get the hang of using this one because it's so thin but it's easier to draw your brows more precise. It's so thin that it actually makes it easy to work with. I thought the size of it would be a problem it it wasn't. I'm still trying to get the hang of it but I've enjoyed using it and loved the look of my brows. I don't think this pencil is for everyone but I do love this one!
*
Colorpop Eyeshadow: MUSE, Super Shock Shadow, Ultra-Metallic
I've never tried ColorPop cosmetics until I got this one from a Celesti bag. I love the color and it's so pigmented! I also feel like it suits my skintone very well so I've been enjoying wearing this shadow for my eyes! Love the color and pigmentation!
*
Sephora Face Conour Duo: Tan
I bought this one out of curiosity because Sephora's makeup is pretty affordable compared to other brands so I decided to try out their contour and highlight stick and I've been loving using it ever since I first tried it. The contour is easy to work with and looks good. But the main thing that got me to really love this contour stick is the highlight-part. I thought that the highlight wouldn't match my skintone and would look bad on me but nooooo! It did not! I love the highlight it gives to my face and it looks amazing with some setting spray afterwards. I would say using the contour stick and not setting the whole makeup tends to look caky but when applying setting spray the finish look is amazing! Love it!
*