So this is one of the perks of moving to Sjælland. There are so many different types of cakes and sweets over here that you can't get your hands on the other side of the bridge. And my one soft spot is cakes! I have a sweet tooth like no one else. Making them, eating them, serving them..! You name it. So of course I've been doing some research on which bakeries and coffee shops to visit as a cake fanatic.
Even before I moved over here quite a few of my friends had mentioned the cupcake shop, "Cravings", which is located in Copenhagen, so I thought I would give it a try.
I bought 8 cupcakes all together, 2 of each in case my husband felt like trying them out, and well… I do want to share the rest of my life with him, but I don't wanna share my cakes – a principle of mine ;) just kidding!
The shop had more than the 4 different flavours listed in this post but I just picked a few I felt like having.
Here we go!
#4: Chocolate cupcake with vanilla frosting

I wanted to try the chocolate cupcake because it's a basic must-have flavour. In my optic you can't compromise when it comes to chocolate cupcakes. They are simple to make, has to be moist and rich on chocolate and last but not least they got to leave you hungry for more. Unfortunately this cupcake didn't do it for me. The cake was dry and lacked flavour. I chose one with light blue vanilla frosting that tasted like sour milk. Frankly I was very disappointed. So alltogether the cupcake and the frosting gets in my least favourite and gets the 4th place.
#3: Vanilla cupcake with vanilla frosting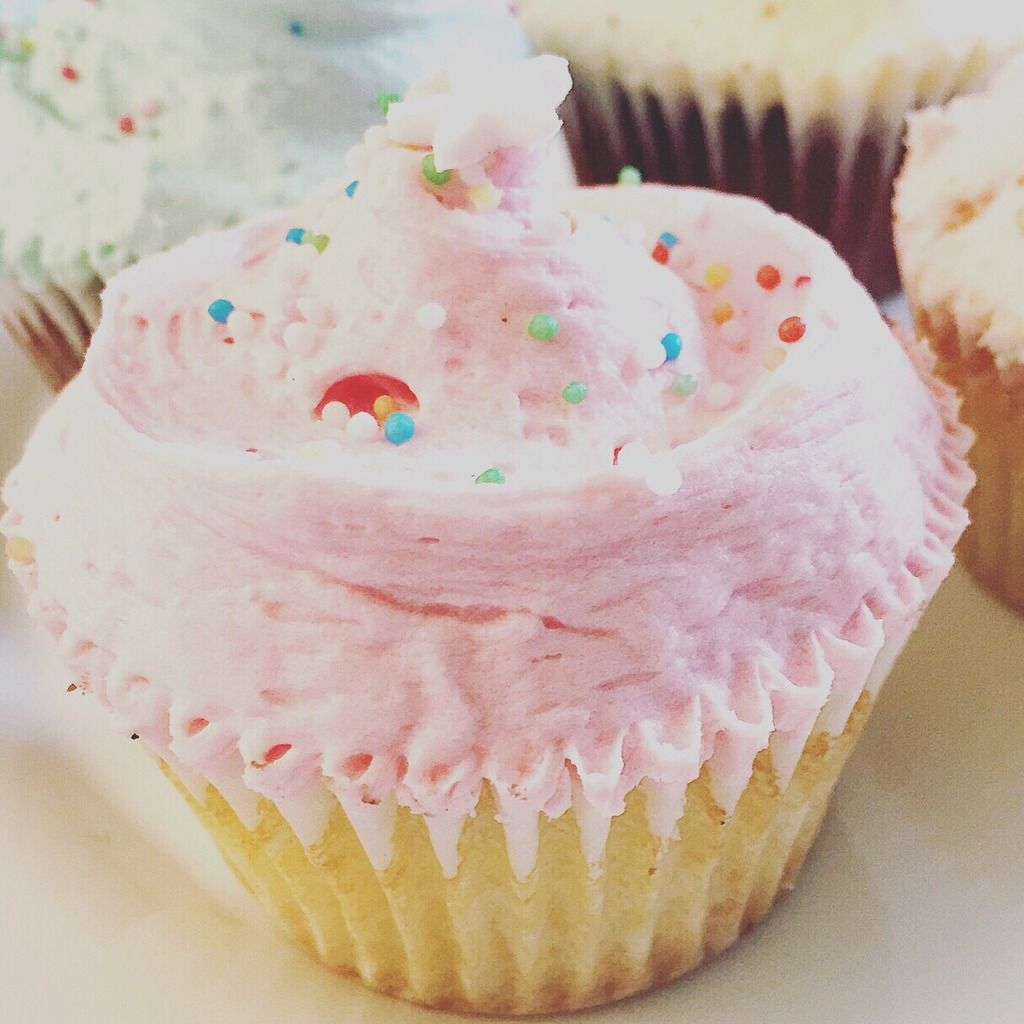 Another classic that is must to have in the variety of cupcakes. The vanilla sponge was a lot more moist than the chocolate sponge. It wasn't a wow-experience and the frosting didn't do the cake any favours. This didn't taste any different than the frosting from the previous cupcake. I ended up scraping it off and eating the cake alone. This one makes it to 3rd place – yes, the cake was better than the chocolate cake, but it tasted like your every day super market vanilla sponge cake.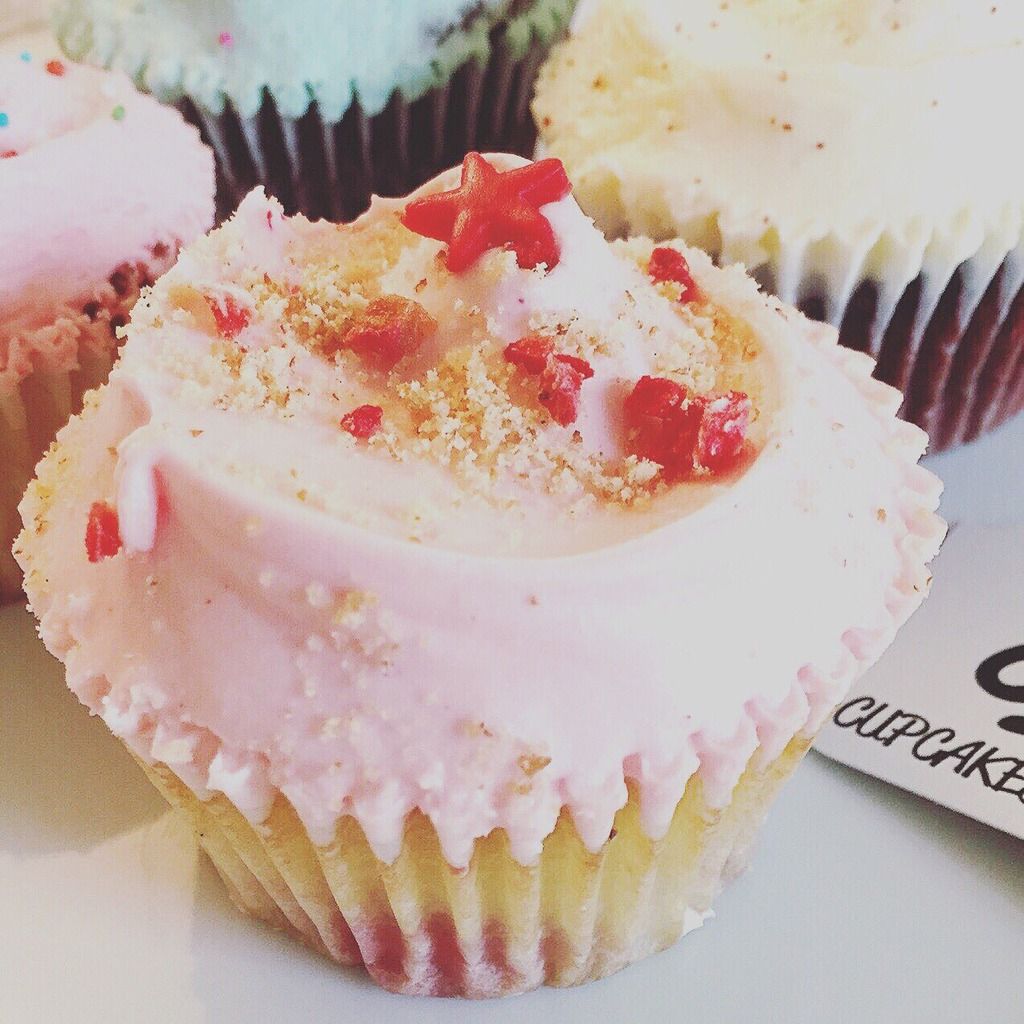 Now things are getting interesting! As a strawberry and cheesecake lover I had fairly high expectations to this cupcake and it didn't disappoint. Lovely moist vanilla cupcake with fresh soft strawberry chunks that have just the right consistency with a creamy, not too sweet cream cheese frosting. I will definitely have this one again. 2nd place!
#1: Red velvet cake with cream cheese frosting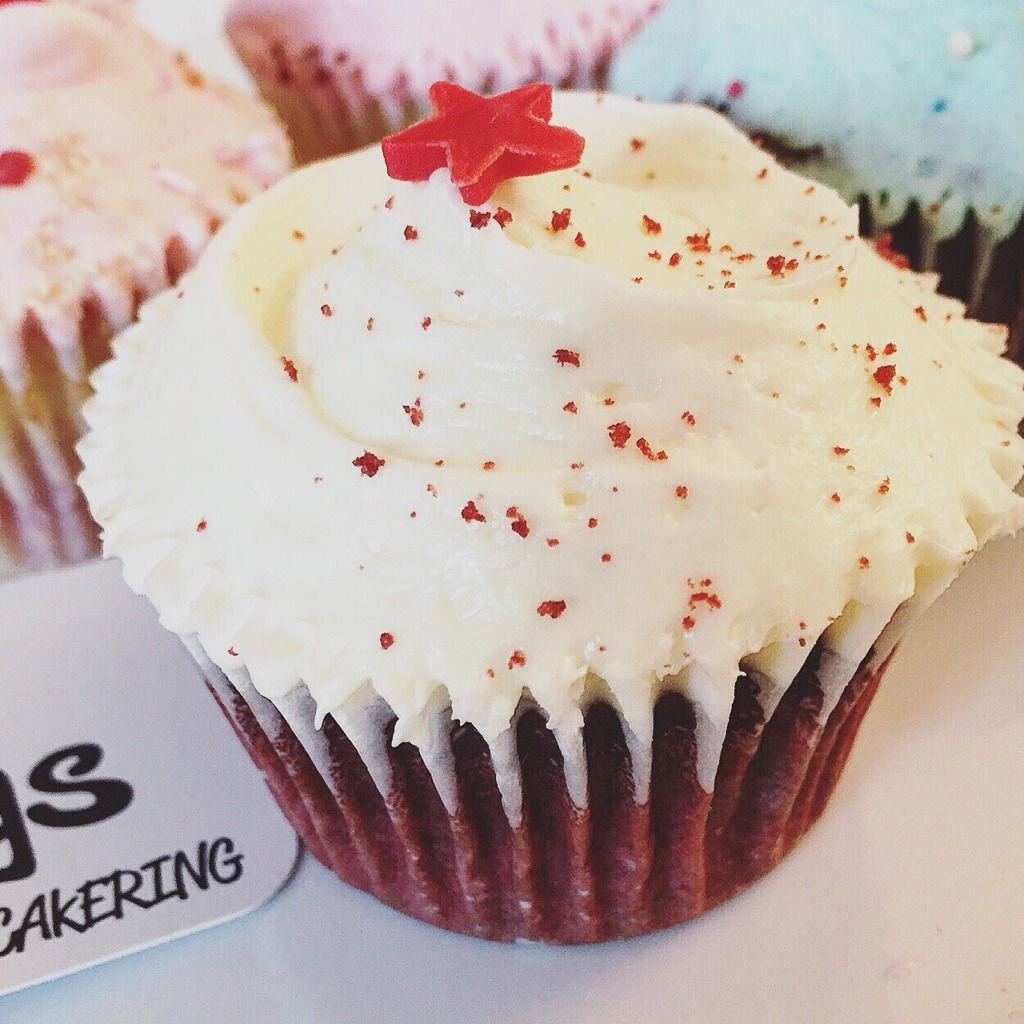 And the winner of my little cupcake review is the red velvet cupcake! First of all biting into this piece of gastronomy heaven leaves you i awe for a second or two. The cake lives up to its name – it's velvety and light and the cream cheese frosting harmonises extremely well with the cake. Perfect deep red colour and very rich in taste. Highly recommended!
That was it for this review guys. All in all I think the red velvet cake was the only cake that blew my mind. I still didn't give it full points because honestly I think it's a bit too pricey to charge 200 dkk for 8 cupcakes of this size. That's why I couldn't give the red velvet 5 out of 5 points. That said I want to point out that I can't say anything bad about the taste of the cake.
Have a lovely day xxx