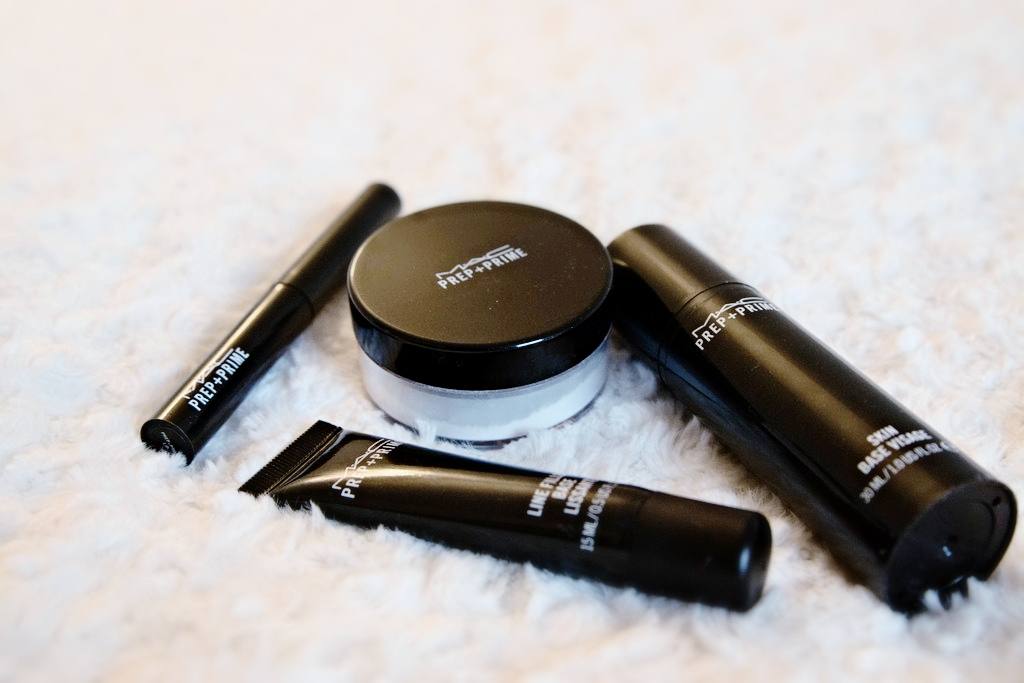 Hello lovelies,
It is finally time for another "The Science of Make-Up" :D It's been a while but I finally finished trying out different products to present to you guys. I've been using make-up for close to a decade now (yes, it sounds like so long!), but I just recently started using a primer before applying make-up, simply because I had no idea what a primer could do before. When asking at the make-up stores all I got was "It will make your make-up last longer", and since I didn't feel like my make-up didn't last long enough I honestly didn't see the need to invest in a primer. After doing some research and hearing from people why they needed a primer when wearing make-up I decided to give it a shot. So here it comes.
Dear readers: There are so many more benefits to using primer than your make-up lasting longer!
Choosing a primer:
As you all know I am a hopeless romantic when it comes to Mac Cosmetics so this is where I found the primer I wanted to use. Like foundations, concealers, powders – you name it – you can get different primers according to your needs.
Mac has one basic skin primer called: Prep + Prime Skin, Base Visage. This is the one I will be writing about since this is the one primer in their series of make-up primers that suits all skin types and skin colours. They have several other primers for specific skin types and colours such as: Prep+Prime Skin Smoother, Prep+Prime Face Protect Lotion SPF 50, Prep+Prime Natural Radiance and many more liquid as well as powder primers.
Benefits:
#1: Not too dry – Not too oily: I apply the primer after I've let my face cream set. Since I tend to get dry skin around the cold seasons I use a cold cream on my face and as you can guess these are very fatty creams. This can result in your face looking like you just came out of a steam bath. When applying the primer on top I find that it neutralises the oily shine on my face and gives me a smooth and natural look.
#2: Softer skin: Yes! Don't ask me how, but you really can feel the difference in the texture of your skin.
#3: Seals pores: So this is one of the main reasons I fell in love with my face primer. Back when I didn't use primers, but applied my foundations on top of my moisturizer, I often felt like my skin couldn't breathe. On top of that the foundation sometimes made my pores more visible which wasn't very flattering. The primer covers you skin while letting it breathe and it makes the foundation set in a more natural-looking way. Also you won't get clogged pores and therefore you prevent otherwise possible breakouts.
#4: Youthful skin: The primer reduces fine lines and wrinkles and gives you a more youthful look.
#5: Long lasting Make-up: And the one we always hear at the drugstore, "Your make-up stays on longer."
#6: Reduces discolourations: Redness, dark circle under your eyes, old scars; from my experience this primer actually reduces the discoloration in my skin and gives me a more even look.
#7: Anyone can use it: That's another thing I love about this product. It isn't specifically to a certain skin color or type. It just works for everyone.
What you need to know when buying a primer(geek alert!):
Of course we shouldn't blindly believe that because a product says it has a certain effect it will. What we can do no matter what brand of make-up we use is to look at the ingredient list. Other than water and plant extracts there are certain key ingredients to a primer:
To reduce grease and oily skin a typical ingredient would be a silicone. My mac primer contains dimethicone, polysilicone-II and trimethicone.
Your skin needs protection. The trimethylol hexyllactone crosspolymere works as a skin protector.
Magnesium myristate is a an ingredient that forms a thin layer on top of your skin, reduces flaking and caking of your make-up and smoothens/blends your make-up so it looks more natural.
An important ingredient in all skin care products in my opinion is antioxidants! In this case tocopheryl acetate. There are so many benefits when using antioxidants in your skin care routine. It calms inflammations in your skin, it treats scars, reduces wrinkles and fine lines, repairs sun damage and it improves the health of your skin and slows down aging (some actually say it close to reverses the aging process of the skin).
Last but not least we need the primer to hydrate our skin. Butylene glycol, caprylyl glycol and hexylene glycol will do the work.
The chemicals I've listed above are found in the Mac Cosmetics Primer. Other brands may use other chemicals for the same purpose so don't exclude the product because it doesn't contain the same silicone as listed above.
I hope you found this post useful. Feel free to write us if you have a topic of preference for the next "The Science Of Make-up".
Have a lovely day <3
xxx
Delany
MyCafe101