---
Hello readers,
Hope you all had a lovely Christmas. This year we decided to spent Christmas at my sister-in-law's in Switzerland and I am happy we did! On Christmas Eve we had traditional Swiss Christmas dinner and on Christmas Day my husband and I were in the kitchen cooking a traditional Danish Christmas dinner. At the end of the night we were so full that only 2 of us ended up having dessert! And of course I was one of the two! ;)
This holiday has been absolutely lovely. It's always nice to be around family especially when you don't get to see them that often. And when my sister-in-law is cooking it's actually nice to get some Tamil food for a change – I love her food!
Now that I've updated you on our Christmas let's get to a very long overdue review. I am talking about the Makeup Revolution eyeshadow palettes I showed you guys months back. I ordered two different ones since they were so cheap and so different yet within the same colour category. The palettes are called "Flawless" and "Flawless Matte" and have 32 different colours each.
The "Flawless Matte"-palettes is good for everyday use. The matte colours are suitable for a neutral look and for a not-overly-dramatic smokey-eyes-look. For me they work as a good base for every thinkable look.
One thing I miss on this palette is a decent black colour.The black(or closest to black) colour on the palette is called "carbon" and is in fact not black at all. It's more like a dark greyish colour due to lack of pigmentation. I know it's meant to be that way but I would have preferred proper black colour.
The other palette makes up for the black colour though. The colour "Night" is a very pigmented deep black which I love using as a substitute for a softer eyeliner. The palette has a wide variety of different glittery colours – a good party palette. Some of the lighter colours could do with more richness in colour but non-the-less there are a lot of lovely colours. This goes for both palettes.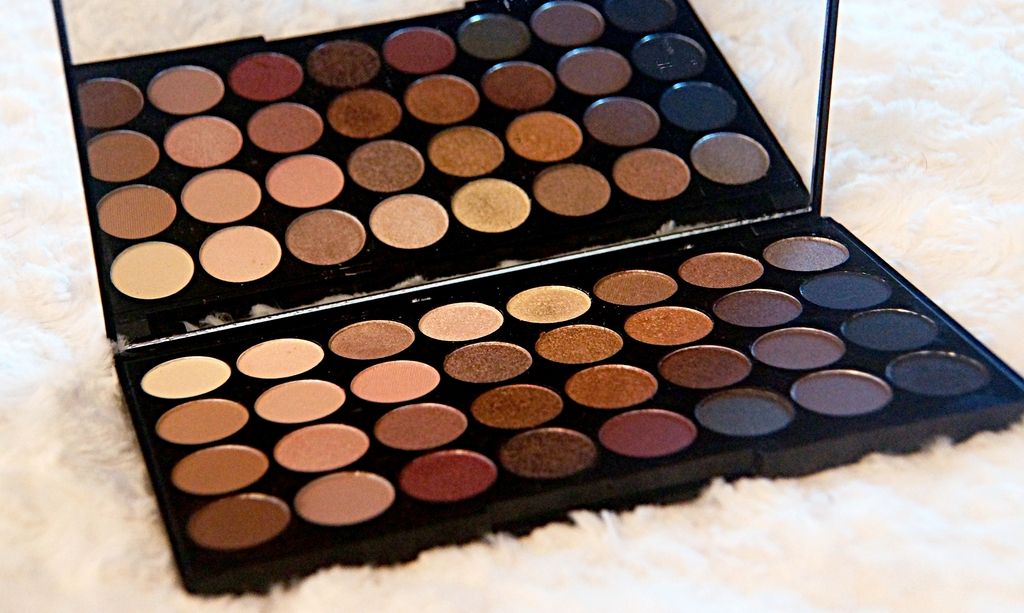 Taking the price into consideration I think you get a lot of product for your money. Compared to other more expensive products on the market I think the quality of this product is equally as good. It's not the best I have tried but it's definitely not even close to being the worst. This product is unbelievably cheap, you have a big variation of shadows and I have to mention – the customer service is incredible.
I'm not the biggest eyeshadow consumer simply because I'm awful at doing it on myself so for me this is perfect. I don't go and spend a fortune on eyeshadows but still get quality. I would recommend this for everyday use and party use. My favourite has to be the matte palette. I love the natural look it gives you.
Enjoy the rest of your holidays lovelies x
Delany